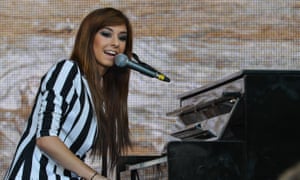 (Photo: Getty Images – 2013 – via The Guardian)
UPDATE:  Without providing any background information, police have identified the murderer as Kevin J. Loibl.  (Photo: myfox8.com)
The killer is dead of a gunshot wound.  Rising pop music star Christina Grimmie is dead from gunshot injuries.  The Guardian tells us that the Orlando Police already have a lot of information about the 21 year old assassin:
…"At about 10.30pm last night we received multiple calls about shots being fired from inside the plaza," police chief John Mina told reporters. "Our officers responded within two minutes and immediately cleared the scene."…

…Investigators believe Grimmie's killer travelled to Orlando from outside of central Florida to kill the singer. "We can tell you he came here to commit this crime and had plans to travel back to where he came from," Mina said. To the best of investigators' knowledge, the shooter was alone.

The search now turns to the shooter's cellphone and computer, he added: "Our lives are always now on our phones, so we're hoping that that will maybe lead us in the right direction to find a motive for this crime."…
Sometimes figuring out those motives can be so baffling to the police.
And they're not releasing his name – yet.
He's dead.  I can't help wondering why withholding his identity and place of origin is necessary.  He was heavily armed and carrying extra ammunition.  Perhaps we'll know more later today.
Belated thanks to Drudge for the links.