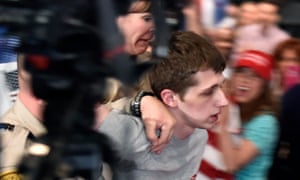 It's a pretty simple case.  Here are the questions the cops would (or should) have asked, and the defendant's presumptive answers:
Q)  Why did you try to take the police officer's weapon?
A)  I was going to use it to shoot Donald Trump.
Q)  Did you intend to kill Mr. Trump?
A)  Yes.
As usual we have to turn to the British media for a small piece of the truth, because the American press corps is hiding it.  The Guardian tells us that a British man, who was in the USA illegally, has pled guilty to being an illegal alien in possession of a firearm and disrupting an official function – in a grotesquely watered-down deal offered by the US Department of Justice. Michael Steven Sandford could get "about two years in prison" for genuinely trying to assassinate Donald Trump.  From The Guardian:
A British man has pleaded guilty to federal charges stemming from an incident in which he grabbed a police officer's gun with a plan to shoot Donald Trump at a campaign rally in Las Vegas.

Michael Steven Sandford could face about two years in a US prison and be deported for his pleas on Tuesday to being an illegal alien in possession of a firearm and disrupting an official function.

The 20-year-old Sandford could have faced up to 20 years in prison if he had been convicted at trial of both charges.

Court documents say Sandford acknowledged reaching for the gun while Trump was on stage 18 June at a Las Vegas strip hotel-casino.
And if you think Attorney General Loretta Lynch was not involved in okaying this deal, you had better think again.  She was.
Mind you, the man made an overt attempt to kill Mr. Trump by grabbing a Las Vegas police officer's duty weapon and trying to take it from the officer.  A prior issue of The Guardian reported:
A British man has been detained and charged with attempting to seize a police officer's gun at a Las Vegas rally in order to commit an act of violence against Donald Trump, authorities said on Monday.

Michael Steven Sandford was arrested at the Saturday rally after grabbing at the holster and handle of a gun at the hip of a Las Vegas police officer who was providing security at the event for the presumptive Republican nominee…

…The complaint, which was filed on Monday in the US district court for Nevada, says Sandford "knowingly attempted to engage in an act of physical violence against Donald J Trump … by attempting to seize a firearm from Las Vegas Metropolitan Department Officer"…
Not knowingly attempting to murder Mr. Trump.  But look on down the page at what Mr. Sandford told the cops:
…Sandford allegedly told a US agent, referred to in the complaint as special agent Swierkowski, that he had driven to Las Vegas from California in order to kill the presumptive Republican nominee for president.

According to the complaint, Sandford had gone to a gun range called Battlefield Vegas on 17 June in order to learn how to shoot. There, he fired 20 rounds from a Glock 9mm pistol, which, the complaint says, was the first time he had ever fired a gun…

…The document also states that Sandford told Swierkowski that if he were on the street tomorrow, he would try it again. He claimed he had lived in the US for approximately a year and a half and had been planning to attempt to kill Trump for about a year but finally felt confident enough to try it on Saturday, according to Swierkowski's report.

He also told Swierkowski that he had tickets for a Trump rally in Phoenix, Arizona, later that day, and planned to try to kill Trump there as well.
We don't know if that rather explicit confession to attempted murder (with considerable premeditation, I'll have you know) came before or after a proper Miranda Rights advisal.  If we assume (I know, it's risky to do that) that the cops were doing proper business as it should be done, the in-custody confession came forth after Mr. Sandford waived his right to counsel.
There is a crime called Attempt to Commit Murder or Manslaughter under Title 18 in the U.S. Code, section 1113:
Except as provided in section 113 of this title, whoever, within the special maritime and territorial jurisdiction of the United States, attempts to commit murder or manslaughter, shall, for an attempt to commit murder be imprisoned not more than twenty years or fined under this title, or both, and for an attempt to commit manslaughter be imprison – See more at: http://codes.lp.findlaw.com/uscode/18/I/51/1113#sthash.HVZA41EK.dpuf
Interestingly, Mr. Sandford was not charged with that offense.
Mr. Sandford will not do a full two years in prison, if he is even sentenced to that much time.
I have a question:  Had President Obama or Mrs. Clinton been the intended target of such an overt attempt at assassination, would this kind of deal have been swung by the Department of Justice?